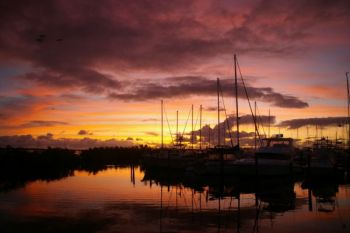 Sunrise and sunset are two of the best reasons for cruisers to enjoy the ICW.

Captain Chris and Captain Alyse will take you from New Orleans, LA to Norfolk, VA, the Chesapeake Bay and beyond to the Great Lakes. Navigating your way through wonderful anchorages and historic coastal sites are made possible because of the Intracoastal Waterway or the ICW as it's also known. Discovering new friendships - and each other- along the way is a bonus.

Schedule us for your next Club Meeting or Rendezvous OR we can arrange a custom seminar just for you. Come meet us at one of the many upcoming boating events or schedule time with us aboard your boat. Live the Dream while learning aboard with us.