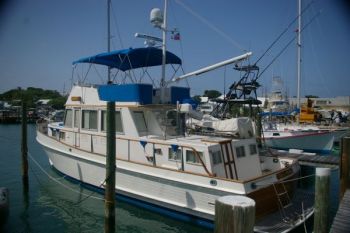 A beautiful Grand Banks 46 at the dock in Man O War, Abacos Bahamas, waiting to come back to the United States.
Additional Images

Vessel type/size - Grand Banks Classic Trawler 46 feet
Engine type/horsepower - Twin Caterpillar 3208 375 HP
Economical cruising speed - 16 knots
Starting location - Man O War Cay, Abacos, Bahamas
Final Destination - Stuart, FL.

We were hired to bring this Grand Banks 46 back from her vacation home in the Abacos. It was a fabulous trip, on a fabulous boat without a hitch...Oh, but did we say we were keeping a sharp eye out on Hurricane Bertha? At flight time she was 700 miles south east of the Bahamas and her projected path was to veer north toward Bermuda.

Our hope was that this storm would turn north quickly and miss land altogether. Our luck held and we enjoyed terrific weather with nice calm seas for crossing the Gulf Stream. Click on these photos below for our journey.....