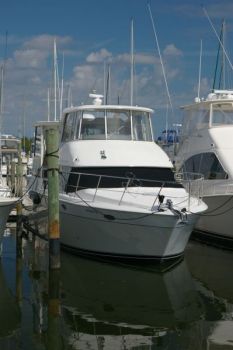 Carver 50 at the dock and ready to go!

Vessel type/Length - Carver 50 foot Motor Yacht
Cruising speed - Economical 18 knots
Engine type/Horsepower - Twin Cummins 450 HP



This boat has been dormant for a few years and the owner wanted to prepare it for another Bahama cruising season. We started with a "crawl thru" to list items needing attention. After presenting the list to the owner we were authorized to proceed. Below are some major items that were checked, repaired or replaced as authorized by the owner. Some technical items were addressed by the respective certified technicians.

Living spaces
Air conditioning systems, return air filters and refrigerant (Freon) pressure/levels
Shower systems, sump pumps cleaned
Window leaks from rain
New carpet
Machinery spaces
Hired diver to clean bottom and running gear before sea trial
Sea trialed the boat and discovered the engines were running warm.  Had a Cummins mechanic remove and clean the heat exchangers as well as do a general check up on the engines.
Replaced all the old dry rotted sea water hoses on the engine and generator.
Checked toilet systems and holding tanks.
Installed new starting batteries.
Navigation systems
Added new GPS Chart Plotter
This may seem like a lot of work but the boat had not been used for a few years. Generally this is normal maintenance if done regularly though the years.
The owner planned to haul out the boat in the Bahamas for a bottom paint job. The local diver cleaned the hull and running gear but the old anti fouling paint was no longer doing it's job.