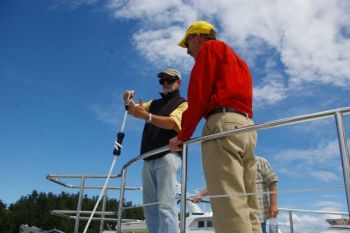 Gather round. Captain Chris will always teach something of value to make cruising more enjoyable.

Check out our most asked about subjects, Hot Topics and recent scheduled events listed below....In between training, charters and deliveries here's where we've been busy during the 2009-2010 Boating Season:

Please click here for more seminar topics.
Fort Lauderdale International Boat Show Oct 29 - Nov 2, 2009 See you at the show!
Fort Pierce Christmas Boat Parade Dec 12, 2009 What a great parade! Here's to a terrific New Year!
Stuart Boat Show Jan 15-17, 2010. Check out the web site: allsportsproductions.net
Cruiser Expo Jan 15-17, 2010 cruiserexpo.com  The 2nd Annual Event! Check back next month for the 2010 new and exciting seminar schedule.
PassageMaker University Fort Lauderdale January 27-28, 2010. Building Cruising Confidence as a Couple A hands-on training aboard that every cruising couple should attend. Register now before this great class fills up. http://trawlerfest.com
Trawler Fest Jan 29-31, 2010 Presenting two seminars: Proper Anchor Selection & Use and The Right Knot for the Job. Come ready to learn! http://trawlerfest.com
Miami International Boat Show Feb 11-15, 2009 Come see what's new in the boating world.
Palm Beach Boat Show Mid March, 2010 Stay tuned for dates.
AGLCA Spring rendezvous Myrtle Beach SC April 25-18, 2010 Learn about looping and living the dream along the intracoastal waterways. www.aglca.com
PassageMaker University Anacortes WA May 16-19, 2010. Building Cruising Confidence as a Couple A hands-on training aboard that every cruising couple should attend. http://trawlerfest.com
Trawler Fest May 20-22, 2010 Presenting two seminars: Proper Anchor Selection & Use and The Right Knot for the Job. http://trawlerfest.com
Trawler Fest Warwick RI July 15-17, 2010 Presenting two seminars: Couples Cruising and Dinghy Dynamics Beautiful weather on the New England coast! http://trawlerfest.com
PassageMaker University Baltimore MD. September 22-23, 2010. Building Cruising Confidence as a Couple A hands-on training aboard that every cruising couple should attend. Registration opens June 12 http://trawlerfest.com
Trawler Fest Baltimore September 24-26, 2010 Presenting two seminars: Proper Anchor Selection & Use and Cruising in the Florida Keys. Lots to learn!  http://trawlerfest.com
AGLCA Fall rendezvous Joe Wheeler State Park Rogersville AL October 24-27, 2010 Learn about looping and living the dream along the intracoastal waterways. www.aglca.com