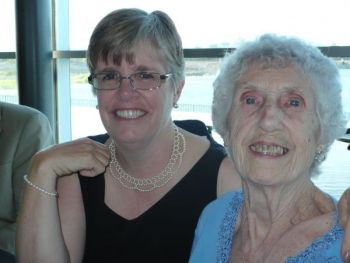 The chefs-Cousin Gail and Aunt Janet (Midge's sister)

Incredibly easy and YUMMY chocolate cake. No worries about getting the layers even or frosting just right -after all, we're on a boat! The black ink is from Aunt Midge. The red ink is Cousin Gail's easier version...Could it GET any easier???

1 pkg (18-1/4 oz.) chocolate cake mix
    I used Duncan Hines dark fudge

1 jar (17 oz,) caramel ice cream topping (warmed)   No need to warm it if you don't want to, room temperature is fine. 

1 carton (8 0z.) frozen whipped topping (thawed)

3 Heath candy bars (1.4 oz each) , chopped  or use a half bag of the Heath toffee chips which is about 8 oz (chips are already cut) 

Bake cake according to instructions..use  13x9 baking pan. Cool on a wire rack.

Using the handle of a wooden spoon  (or the handle of a crab mallet which is bigger) , poke holes in cooled cake. Pour 3/4 cup caramel topping into holes. Spoon remaining caramel over cake.  I poured all of the caramel into the holes and none on top - do whatever you want. Top with whipped topping and sprinkle with candy. Refrigerate for at least 2 hours before serving.

Enjoy!