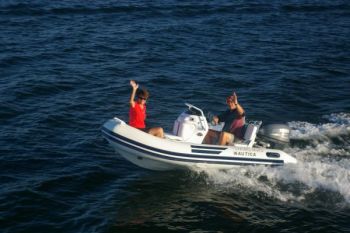 This cruising couple has lots of stories to share...and they still make it fun!

This couples-oriented day on the water offers tricks and tips on boat handling with an emphasis on team work. The husband and wife team of Captains Chris and Alyse Caldwell will teach you how to formulate a plan and effectively communicate together while cruising. Each couple is given the opportunity to be both the 'captain' and 'first mate" before switching roles.Training aboard includes:

Communicating, Vessel Systems Review, Docking, Anchor Techniques, Basic Maintenance, Navigation and Trip Planning. In addition to boat handling, these are all important experiences to master as a couple. Before starting the engines, we cover all lifestyle systems that make boating comfortable in a trawler. Staterooms, a modern galley and where to stow everything are some of the many features to learn about. The pilot house and flybridge allow us to review the essentials of navigation come rain or shine. RADAR and electronic GPS chart plotting is ongoing as we cruise the waterway. We take the mystery out of below deck systems. Docking is made easy both on fixed and floating docks. We share what works in the real world...and sometimes what doesn't.